1990's
1990 – Ice Ice Baby by Vanilla Ice started a 4-week spell at the top of the UK Singles Chart. The song based on the Queen and David Bowie Under Pressure bass line has appeared in several "Most Awesomely Bad Songs Ever" lists.
1980's
1984 – I Should Have Known Better by Jim Diamond became the UK Number One Single, where it remained for just 1-week. In the preceding weeks Diamond publicly requested people to buy the Band Aid Do They Know It's Christmas? single rather than his release.
1960's
1966 – The Tom Jones single Green Green Grass of Home began a 7-week reign at the top of the UK Singles Chart. The song was written by Claude "Curly" Putman, Jr. and was recorded the previous year (1965) by Jerry Lee Lewis.
1940's
1945 – The American singer, songwriter and actress Bette Midler was born in Honolulu. The singer performed on Broadway, and has had many hits including The Rose, Wind Beneath My Wings and From a Distance.
Previous Albums Of The Day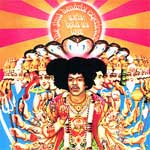 No.452 1/12/2017

The 2nd Jimi Hendrix Experience LP Axis: Bold as Love is 50 years old today. Rolling Stone described it "the finest voodoo album that any rock group has produced to date." Includes Little Wing, Castles Made of Sand and Bold as Love. jimihendrix.com
Born On This Day Supergroup
Vocals:  Bette Midler
Guitar:
Bass:  Jaco Pastorius (Weather Report)
Drums:  John Densmore (The Doors)