1960's
1969 – The UK comedy act The Scaffold claimed the UK Number One with their song Lily the Pink.  The Scaffold were comic John Gorman, poet Roger McGough and Mike McGear, who was actually Paul McCartney's younger brother.   Lily the Pink was based on the folk song The Ballad of Lydia Pinkham.   Graham Nash, then of The Hollies, a young Tim Rice and Elton John, as well as Cream's Jack Bruce all contributed to the recording.
1950's
1954 – English trumpeter Eddie Calvert's instrumental version of the German song Oh, Mein Papa became the Number One UK Single.  The song was written by the Swiss composer Paul Burkhard for a musical called Der schwarze Hecht (The Black Pike).  Oh, Mein Papa spent 9 weeks as the UK Number One.
1930's
1935 – The one and only Elvis Presley was born in Tupelo, Mississippi.  Elvis was an identical twin.  However, unfortunately his brother Vernon Presley was stillborn 35 minutes before Elvis's birth.
Previous Albums Of The Day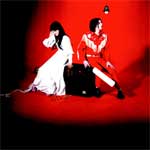 No.483 08/01/2018

The 2003 LP Elephant was 4th outing by the Detroit duo The White Stripes. The White's were always the envy of the music press, but the critics truly gushed over Elephant. Includes the now sports crowd favourite Seven Nation Army. whitestripes.com
Born On This Day Supergroup
Vocals:  Elvis Presley and David Bowie
Guitar:  Zoot Horn Rollo (Captain Beefheart and The Magic Band) and Robby Krieger (The Doors)
Bass:
Drums:  Dave Weckl