1950's
1955 – The Finger of Suspicion (Points at You) by Dickie Valentine began the first of 2 spells as the UK Number One Single. The song, written by Paul Mann and Al Lewis, spent a total of 3-weeks in the top spot.
Previous Albums Of The Day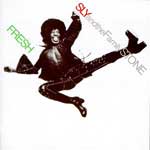 No.482 07/01/2018

I hear so much Prince in the 1973 Sly & The Family Stone album Fresh. I knew the purple one was influenced by Sly, but crikey! Fresh was perhaps Sly's last great work, includes a superb rendition of Que Sera, Sera. Have that Doris!
Born On This Day Supergroup
Vocals:
Guitar:
Bass:
Drums: