1940's
1943 – The legendary American singer-songwriter Randy Newman was born (Randall Stuart Newman) in Los Angeles.   Newman is best known for his satirical lyrics and movies scores, especially with Disney-Pixar.  Although he gained moderate chart success, his debut and early 1970's studio albums are now viewed as classics.
Previous Albums Of The Day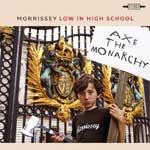 No.449 28/11/2017

Although Morrissey has received mixed reviews for his latest LP Low in High School I always look forward to hearing new material from the ex-Smiths front man. How do you rate it?
Born On This Day Supergroup
Vocals:
Guitar:
Bass:
Drums:  Matt Cameron (Pearl Jam and Soundgarden)