1940's
1940 – The co-founder of The Beatles John Lennon was born (John Winston Ono Lennon) at Liverpool Maternity Hospital.  The legendary musician sadly lost his life in December 1980 when he was shot by Mark Chapman.
Previous Albums Of The Day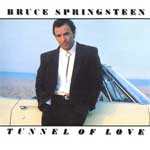 No.399 9/10/2017

Tunnel of Love by Bruce Springsteen is 30 years old today. Underrated in The Boss back catalogue? Doesn't sound dated like many albums from late 80's. brucespringsteen.net
Born On This Day Supergroup
Vocals:  John Lennon and PJ Harvey
Guitar:
Bass:  John Entwistle (The Who)
Drums:  Tony Royster, Jr.