2010's
2014 – Bang Bang by Jessie J, Ariana Grande and Nicki Minaj became the UK's Number One Single. The single was a huge summer hit, although only spent one week at the top spot.
1970's
1975 – Hold Me Close by David Essex started a 3 week spell at the top of the UK Singles Chart. The song knocked Rod Stewart's Sailing off the top spot.
1970 – American rock singer and songwriter Janis Joplin died in room #105 of the Landmark Motor Hotel in Hollywood. Joplin was discovered by her tour manager dead on the floor beside her bed following a heroin overdose.
1960's
1962 – Telstar by The Tornados became the UK Number One Single, where it remained for 5 weeks. The instrumental track, named after the communications satellite, was written and produced by Joe Meek.
Previous Albums Of The Day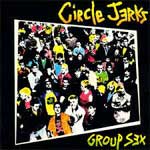 No.394 4/10/2017

Anyone for punk? The 1980 Circle Jerks LP Group Sex is seen as a landmark release in the hard core punk genre. Released on Frontier Records FLP 002!
Born On This Day Supergroup
Vocals:
Guitar:
Bass:  Eddie Gomez (Bill Evans Trio) and Steve Swallow
Drums: